1 kg GOATS MILK MELT and POUR SOAP BASE MP: FREE Shipping: Low Sweat, Palm Free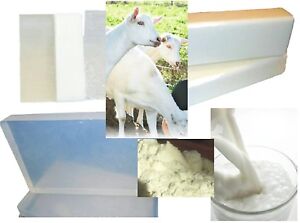 ---
A Beautifully Creamy preblended GOATS MILK Soap - All ready to go, just melt, fragrance, pour into mould, set and you have beautifully creamy goats milk soap base  with the added skin nourishing properties of goats milk.

QUANTITY: 1 kg block

EASY COLOURED: Click on the above images for some great ideas - you can make coloured soaps using the pigment dyes

COMBINED SHIPPING with other items: B

UY as many kgs (or add complete soap kits or soap or shimmers) as you like right now & we will ship them together to save on postage (Just ask us to combine before paying)

SKIN BENEFITS: C

ontaining vitamin rich goat's milk for additional moisturising benefits for your skin! Skin softening and smoothing, Nourishes dry complexions. Good for Sensitive skin. Hypo-Allergenic. Creamy, soft - skin softeningENVIRONMENTALLY AWARE: Biodegradable - No Palm oil NATURAL: No Sulphates (SLS or SLES), No Artificial Colours, Unfragranced – No addded Perfumes, Fragrances or Scents  – you add your own!WHAT WE LEAVE OUT: As important as what we put in our bases is what we leave out, take a look at our ingredients list belowSOAP BENEFITS: High lather, Low Sweat, Firm (so longer lasting than most Melt and pour soaps)EASY TO USE: Perfect to add your own Essential Oils and Fragrance Oils - Simply melt, colour and fragrance, pour into mould, set, use!Easy to unmould, Slice/ Cut, StoreCOST EFFECTIVE: Can be re-melted several times - no waste  - Sold in 1kg blocks 20kgs to a box -  Long Lasting, High Quality - kg block (makes 10-30 soaps)PERFECT FINISHED PRODUCTS: You will have the creamiest white Goats Milk Soap BaseFREE: To get your FREE instructional ebook: We will include a link with your purchaseDELIGHT YOUR FRIENDS: Beautiful, useful hand made gifts – especially good with for gifts. A lovely gift for teachers or students - make the soaps in small seashell chocolate molds - great gifts!! AUSTRALIAN COMPANY: We are based in MelbourneREAL PEOPLE: We teach soap art classes, are passionate about assisting you to build your hobby / business and are available to assist youTRUSTWORTHY:  We have been in business in Australia since 1991 and have full NICNAS registration so you won't need to apply using our basesSECURITY: We also have soapers insurance group buys in Australia - allowing you access to cheaper insurance should you wish to sell your finished items.RETURNS: We are so sure you will love this product that we offer complete 30 days returns (on unopened items) for any reason, including change of mind, no questions asked - Buy with confidence!SOAP BARS: Most soap bars weigh 50-100gms - You will be able to make plenty with this base at 10-20 bars per kg

...........................................................................................................

To make your own soap, depending on oils and additives, the costs are around $1 bar. A great price for natural soap & terrific Christmas presents, add some gold or pearl mica & you have some boutique quality products.

Renascent Bath Body Goats Milk Soap Ingredients 

GOATS MILK (Preblended) Ingredients:

Aqua; Propylene Glycol ;Sorbitol, Sucrose, Sunflower Oil, Glycerine, Stearic Acid ;Goats Milk ;Sodium Hydroxide

* Beautifully creamy, white soap, moisturising, quick set

...